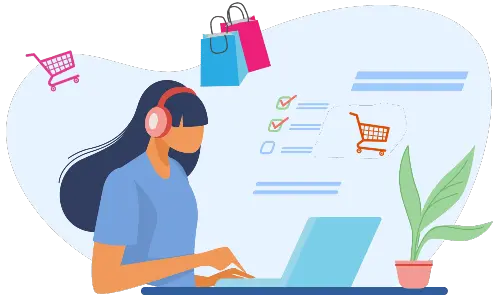 E-commerce Websites
Ecommerce is buying and selling products and services online using the web technology. We develop Ecommerce Website with lower setup cost, lesser running cost, reliable, secure and scalable. Ecommerce website can be custom built or customised using open source platforms. The open source applications have their advantage over tailor made and custom build have their own advantages over open source applications. Both are neither inferior nor superior to each other. The development can be done as per clients choice and requirements.
Businesses get lots of advantages out of eCommerce websites. Any organisation doing business through ecommerce website gets benefits like customer database, less storage space, easy advertisement, quickly reaches customers, round the clock sales, easily manage products based on market demand, no sale boundaries, remarketing chances, easily reach target audience, better profits, etc.
Customers are also having lot of advantages while they purchase in online when compared to physical shopping. Faster buying, no time limit, product comparisons, competitive price, vast choices, shop at convenience, loyalty rewards, lots of payment options, detailed product information, are few advantages.