The best web applications development company in Coimbatore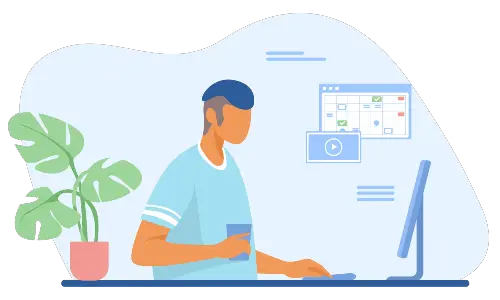 In simple words, a web application is a software program that only runs on a web server. To access a web application, you need to get on a browser and connect to the application through the internet. There is no need to download to install any software.
We at Kiran ITES develop fully customised web application for your business. Our many years of developing these applications have made us the best web applications development company in Coimbatore.
What is the difference between website and web application?
Websites and web applications are linked pages that only work on a browser while being connected to the internet. However, a website is a static entity usually shares information with the user. Other than submitting a form and other basic functions, the user cannot interact with the company. On the other hand, a web application is fully dynamic that uses database, tables, queries, results, reports, and many more. There is no limit for the functionality in a web application. A web application can be built that is equivalent to any ERP Software.
Why web application is important for business?
A web application is a singular way to streamline your business. It brings the management, employees and customers under a single roof.
The management can share information with the world with a single touch. An upload made to the web application will be displayed to everyone on the application the next second.
Management can sit at any part of the world but keep control of the system and business using the web application.
Employees across various places or branches can easily communicate information. A part of information uploaded by one employee is immediately reflected on the application. It can be viewed by other desired employees.
Customers can solve a lot of issues by themselves. The communication between the business and the customer becomes easier and faster with a web application as the medium. It creates satisfied customers and increased customer loyalty.
Remember that the application that streamlines your business into a single platform needs to be accurate. So, you can trust us and hand over this important job to us as we are the best web applications development company in Coimbatore. We are specialists in tailor-made web applications.