The best web design company in Coimbatore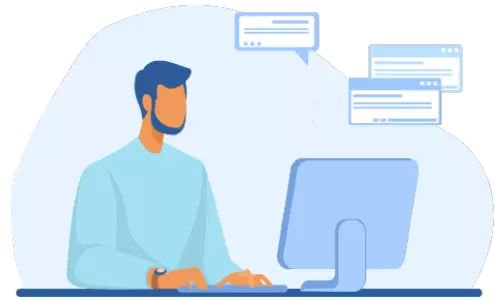 A website is a collection of web pages that are linked to each other through hyperlinks. It is generally used to share useful information with the user. In most businesses, a website is a supporting tool for the business to grow and succeed.
It also serves as a digital business card which can be shared with prospects anywhere in the world. So, having a responsive website that shares information about your business in an impressive way is necessary. And Kiran ITES is the best web design company that will help you take this step.
Why website is important for business?
In this digital era, as more and more people are searching online for products and services using handheld devices, it has become mandatory for businesses to build an online presence. Most queries are entered into Google and the search engine's main job is to show the relevant websites that will help the user. So, if you're a business owner, make sure you have a website representing your business.
Our flagship service is web designing and we are famously recognised as a trustworthy and friendly web design company. Every sector has a different demand. Every business has a unique requirement. We study the unique requirements, grasp the ideas and purpose, and put it into a responsive website. As a business website's main purpose is to help the growth of the business, we aim to design an attractive website that will hold the attention of the website visitors and to convincethem to become a client.
Our Website Designing Process
Start











Growth